This Talavera ceramic tile is hand-painted in a blue cobalt background with a white frame around it. The foreground color is mostly orange with decorations resempling a monarca butterfly. In the manufacturing process the whole tile is painted in white as a first step and then the rest of the tile is painted on top of the white paint. This tile can be used as an accent tile in any wall or horizontal surface. Just an example of the patterns you can make using more than one kind of tile, the picture embedded shows the Terracota Talavera Ceramic Tile in a linear pattern with the monarca Talavera ceramic tile.
.

The tile is handpainted, this means that no two tiles are exactly alike! There might be small differences in size, weight and even the paintings. If you want to enhance that little spot in your wall, pool or any indoors/outdoors space, this is what you are looking for! This tile is special for small patches or entire wall decoration, as you can see from the pattern found in the embedded picture.
Enjoy some pictures of projects where monarca talavera mexican tile has been used.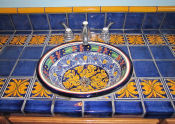 Mexican sink and Talavera Tile in a Vanity
All Rights Reserved. Fine Crafts & Imports, 2002-2013.