The pattern found in this ceramic tile comprises a set of terracotta flowers with yellow round centers. When four or more tiles are put together, a blue flower emerges at the center of each corner intersection(as shown in the second picture). The third picture shows the pattern created by this tile in a 4x4 arrangement. Each piece of Mexican Talavera tile is hand painted, offering you a one of a kind product. No two tiles are exactly the same, and will vary slightly in color and shape. These changes might also happen from shipment to shipment, so it is important to order the whole set of tiles for your project at the same time.
Enjoy some pictures of projects where blue seville talavera mexican tile has been used.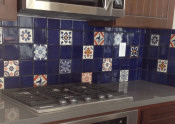 Mexican Tile In A Kitchen Backsplash
All Rights Reserved. Fine Crafts & Imports, 2002-2013.