Talavera tile can be used as an accent tile or for entire wall decorative purposes..

The third picture features an installation where Mexican White Tile it is used as a field tile. The featured tile is arranged in sets of four to create a new pattern. Laid out in a diamond shape along a central line, it gives the tile installation a focal point. On the top and bottom of the diamonds, there is two lines of Green Chair Rail Molding.
DISCLAIMER:
All of our Talavera tiles are hand-made, as a result small imperfections are to be expected. Color variations are to be expected from batch to batch. What you see on your screen might not be exactly what you will get, this is mostly due to several factors, among others: lighting when the picture was taken, lighting in your own monitor, but mostly changes in the glazes used between batches. All these factors are beyond our control. If in doubt, we recommend you to order a sample before committing to a bigger order.
Enjoy some pictures of projects where talamex colima talavera mexican tile has been used.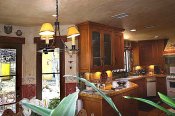 Mexican Tile In The Kitchen
All Rights Reserved. Fine Crafts & Imports, 2002-2013.