Greca C Corner Talavera Mexican Tile > 211315-451
Main characteristics
Width: 6"
Length: 6"
Height: 0.35"
Weight: 0.85 pounds
UPC: 072632610759


Our price: $3.20








This Talavera clay tile is very colorful and is designed to complement a Greca C liner in a frame pattern. Predominantly is the orange letter-C-like decoration with mostly an almond background, and dark blue inside the C. One picture shows this tile when put together along the Greca C one in a frame pattern. It is hand-painted, this means that no two tiles are exactly alike! There might be small differences in size, weight and even the paintings.
DISCLAIMER:
All of our Talavera tiles have a heavily hand-made process involved; as such, imperfections are expected. Color variations are to be expected from batch to batch. What you see on your screen might not be exactly what you will get, this is mostly due to several factors, among others: lighting when the picture was taken, lighting in your own monitor, but mostly changes in the glazes used between batches. All these factors are beyond our control. If in doubt, we recommend you to order a sample before committing to a bigger order.
Enjoy some pictures of projects where greca c corner talavera mexican tile has been used.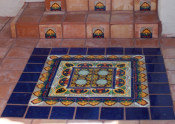 Mexican Floor Tile Along Mexican Decorative Tile Main Entran
---
You might also be interested in checking the clay Talavera trims we got for this tile.
All Rights Reserved. Fine Crafts & Imports, 2002-2013.