This Talavera clay rope is hand-painted in a solid washed green color. This rope can be used as accents or edges to wrap up surface edges.
Enjoy some pictures of projects where green talavera clay rope has been used.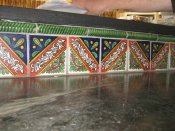 Backsplash of Mexican Tile In A Countertop
All Rights Reserved. Fine Crafts & Imports, 2002-2013.