Wrought Iron House Number Frame Hacienda 4-Tiles > 331720-8
Main characteristics
Width: 16.62"
Length: 5.87"
Depth: 0.5"
Weight: 2 pounds
UPC: 072632616621


Our price: $25.99








A wrought iron frame made by Mexican craftsmen. It will hold four hacienda tile numbers, which measures about 4 1/4" wide x 5 3/4" tall, it will not fit other tile sizes! This is a hand-made product and small imperfections are to be expected. The size is approximate and is only for reference, if you have your own tiles, please give us a call before you buy this frame as it might not fit your own tiles. The second picture shows an example of how the frame looks like when the tiles are installed, this is for illustration purposes only but the tiles are sold separately. This is a simple handmade artistic frame, but carefully designed to enhance your house tile numbers. It was designed to be hung horizontally.

The house numbers frame has wrought-iron-made decorations in the upper and lower parts of the rectangle, they are about 2.2" tall, which adds to the overall frame vertical size (width).
House Numbers Frames Installation Suggestions
Horizontal installation: If you want to install your house tile numbers frame horizontally you can use one or two nails. In using one, the frame might not balance horizontally very well, to achieve a better result use two nails, one on each one of the decorations to hold the frame.
Enjoy some pictures of projects where wrought iron house number frame hacienda 4-tiles has been used.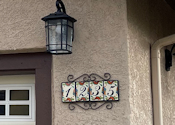 TalaMex hacienda house numbers at the front of a Spanish-Style House
---
All Rights Reserved. Fine Crafts & Imports, 2002-2013.