This Talavera tile number has flower decorations all around it. This is a core characteristic of Mexican Talavera; every single piece of this art is very colorful. The number itself is in dark blue and the background in cream color. It does not have any drillings or holes to hang it. It is supposed to be glued to the wall or to a frame. Mexican Talavera ceramic is the result of a mixture of cultures over the time. The Spaniards were influenced by Arabic pottery, they brought it to Mexico and the mixture of cultures gave as result these beautiful art in ceramic. This ceramic tile is just an example of the exquisite beauty the Mexican craftsmen put on each item they create. It is hand-painted, this means that no two tiles are the same! There might be small differences in size, weight and even the paintings. If you want to delight somebody special with an unique handcrafted gift, this is what you are looking for! Or take it to your house front for a Southwestern touch to your home decor.
Enjoy some pictures of projects where talamex mexican talavera hacienda tile house number one has been used.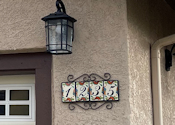 TalaMex hacienda house numbers at the front of a Spanish-Style House
All Rights Reserved. Fine Crafts & Imports, 2002-2013.