This is an edge piece for washed yellow theme-based walls. The washed yellow Talavera clay V-cap got its name because the clay is first painted in white, fired and repainted yellow on top. It will work with the Yellow Clay Tile.
Enjoy some pictures of projects where yellow talavera clay v-cap has been used.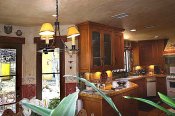 Mexican Tile In The Kitchen
All Rights Reserved. Fine Crafts & Imports, 2002-2013.