The background on this Talavera ceramic tile is a desert motif, composed of a typical environment covered by cactuses, dried bones and sand; with a red-hot sun in the horizon. This tile is compressed and fired to high temperatures to get a very solid and consistent piece of ceramic. Each number is 0.38 lbs in weight, considering its size that is very dense. The number itself is raised from the rest of the surface to give it a 3D effect, as you can see it in the second picture, handpainted in dark blue. This tile house number will add a distinctive point of observation to your house. You can pick a frame for your full house number and we will mount it for you. Check the cross products and find the right frame for your needs.
Enjoy some pictures of projects where desert talavera ceramic house number three has been used.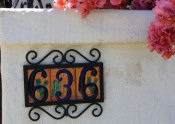 Ceramic House Numbers In The Front Fence
All Rights Reserved. Fine Crafts & Imports, 2002-2013.