This Talavera pot is a very colorful one. A wide range of patterns are painted on its surface. A unique addition to your garden landscape! The opening is about 12" diameter and the internal height will hold a plastic pot about 12" tall.

Talavera Ceramic pots have a drilled hole at the bottom; this enable them to be used as a planter. If you plan to use them for this purpose, we recommend to use a smaller plastic planter to put it inside; this will prevent rusting to happen and will give a longer life to the pot.

As opposed to the solid background most of out pots have, the brushed finish one shown on this pot gives it a different look and texture. It is handcrafted and hand-painted, which means that no pots are the same! There might be small differences in size, weight and even the paintings. If you want to delight somebody special with an unique handcrafted gift, this is what you are looking for!
Enjoy some pictures of projects where large-sized cherato mexican colors talavera ceramic garden pot has been used.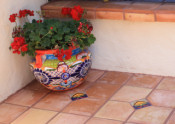 Ceramic House Numbers In The Front Fence
All Rights Reserved. Fine Crafts & Imports, 2002-2013.