This Talavera clay tile is hand-painted in a washed terracotta color, which means that the tile is first painted in a white background and later on in a second step the terracotta glaze is applied. This tile can be used as a field piece in a decorative wall as shown in the second picture.
DISCLAIMER:
All of our Talavera tiles have a heavily hand-made process involved; as such, imperfections are expected. Color variations are to be expected from batch to batch. What you see on your screen might not be exactly what you will get, this is mostly due to several factors, among others: lighting when the picture was taken, lighting in your own monitor, but mostly changes in the glazes used between batches. All these factors are beyond our control. If in doubt, we recommend you to order a sample before committing to a bigger order.
Enjoy some pictures of projects where terracota talavera mexican tile has been used.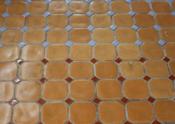 2 Inch Talavera Tile on Saltillo Flooring
All Rights Reserved. Fine Crafts & Imports, 2002-2013.