This is a solid piece of clay, shaped in an hexagon pattern, sold raw. However a layer of sealer is recommended before installation. It measures 12" from side to side, each side is about 6.5" long. Each piece covers about 117 sq in. Using a 1/2" grout an average of 132 sq in will be covered with one piece, this is a rough estimate to compute how many pieces you need. To calculate how many pieces you will need, just multiply your square footage by 144 and divide by 132; that will give you the answer.
Enjoy some pictures of projects where hexagon clay saltillo tile has been used.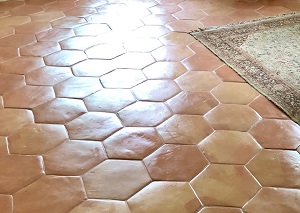 Sealed Terracotta Saltillo Tile Living Room
All Rights Reserved. Fine Crafts & Imports, 2002-2013.