This is a solid piece of clay. It measures 11 1/4" by 11 1/4" and it is 3/4" thick. Using a 1/2" grout an average of 1 sq foot will be covered with this piece. For a more accurate quantity, given a surface, give us a call to find out. The super Saltillo is a finer product than the regular one. Its edges are smooth.
Enjoy some pictures of projects where mexican handmade clay super saltillo floor tile has been used.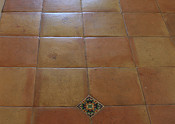 Super Saltillo Floor Tile With Mexican Deco Tile Inserts
All Rights Reserved. Fine Crafts & Imports, 2002-2013.