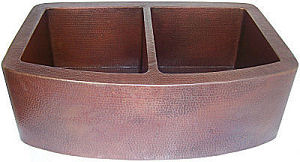 Fine Crafts & Imports is located in Camarillo, CA, close to the 101 Freeway, about 50 miles north of the Los Angeles Metropolitan area, and serving the Ventura County area, including the following cities: Camarillo, Oxnard, Ventura, Santa Barbara, Thousand Oaks, Port Hueneme, Westlake Village, Calabasas, Fillmore, Simi Valley, Moorpark, Santa Paula and more. We offer Mexican and Spanish style home decor items including complete collections of kitchen and bathroom hammered copper sinks. We also carry farm kitchen sinks, vessel bathroom sinks, and bar copper sinks.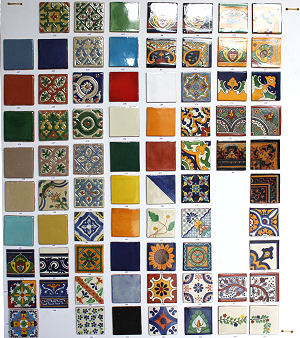 We have an extensive collection of handmade, hammered copper kitchen sinks, Mexican tile, ceramics and pottery, hammered copper bathtubs, copper bathroom sinks, Talavera pottery, Talavera tile murals, mission copper accessories, bathroom accessories and more. All of these products are made by skilled Mexican artisans.
Mexican Talavera tile is mostly hand-made, even though a screen is used to paint the design, most of the process is done by hand. The square clay piece is first made and fired (this is later called a "cookie"). One surface is painted in white and fired again, the final step in the process is to screen the design on top of the white surface and fire it for the third time.
The pictures shown are a samples of how varied and rich the color combination can be.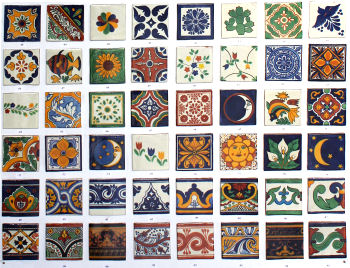 We can also make a custom design. We have prepared a complete guide about Mexican Talavera tile in this document: Glazed Handmade Tiles of Mexico, History, Use, Selection, Design Opportunities, and Installation Considerations. If you are planning a tile project, then it is highly recommended that you read this guide.
Tile house numbers in Camarillo, CA and neighboring cities such as Thousand Oaks and Simi Valley CA.
Along with Mexican Tile, Fine Crafts & Imports also stocks a wide selection of hand-made Spanish style house numbers. The picture shown at the right highlights most of the designs we carry. We also offer the wrought iron frames that hold up to 5 tile house numbers either horizontally or vertically.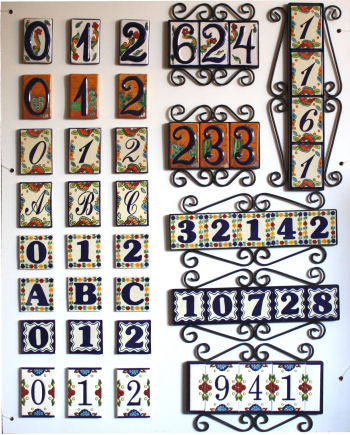 From top to bottom, the designs shown are:
Colonial House Numbers. This typical Spanish style house number features a raised number sitting on a pattern of floral arrangements.
Desert House Numbers.This particular style features a raised number with a cactus pattern painted in the backround.
Hacienda House Numbers. With floral decoration and a blue number on a white backround this is a classic Mexican tile.
Hacienda Letters. This tile has the same features as the one mentioned above except there are letters instead of numbers
Bouquet House Numbers.A chain of flowers surrounding a blue number on a white backround are the main features of this tile.
Bouquet Letters. This tile is essentially the same as the one above with the exception of the numbers being replaced by letters.
Blue House Numbers.This features a very bold dark blue number painted on a Mexican white background with a dark blue zig-zag frame around it.
Mission House Numbers. This is a high-end tile. The glaze is raised in a beautiful pattern. The numbers are painted in dark blue over a white background with patterned floral decorations.
Talavera Mexican Switchplates in Ventura County, Camarillo, Oxnard, Thousand Oaks, Simi Valley CA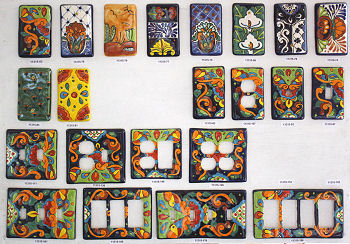 Mexican Talavera switchplates come in a wide range of designs and patterns. We offer 10 designs in 14 patterns, that is 140 different Talavera switchplates for you to enjoy! The designs are: Desert, Multicolor (Rainbow), Blue Mesh (multicolor), Mantel (multicolor), Canary, Traditional Blue & White, Turtle (multicolor), Lily, Marigold and Green peacock.
The patterns are: Simple cover switchplate, Outlet, Cable TV plate, Single toggle, Double toggle, Outlet-Toggle, Outlet-Single decora, Double decora, Double toggle, Double Outlet, Tripple toggle, Tripple Decora, Quadruple toggle and Quadruple decora.
Mexican Talavera Trims in Ventura County, Camarillo, Oxnard, Thousand Oaks, Simi Valley CA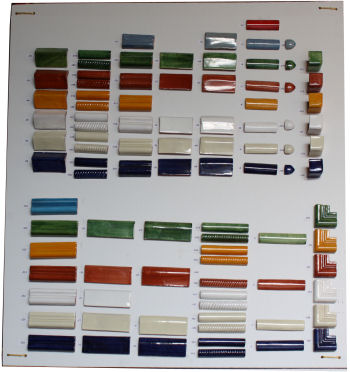 Mexican Talavera Trims come in a lot of different shapes to meet all of your tiling needs. We carry bullnose, beak, and moldings in a variety of simple washed colors. The picture on the right shows most of the shapes we have, each one being designed specifically for a given task.
The far right menu shows a comprehensive set of products to get you directly to the products you are looking for. If you live in the Greater Los Angeles area please do not hesitate in stopping by. We are open to the public from 9AM to 5PM PST, Monday through Friday. We have a warehouse where you can see the products before you commit yourself to buying.